SO YOU WANNA MAKE FORTUNE TELLERS?
(yes, i do! woohoo!)
oh god i think i'm going insane
OH NO!! I DON'T KNOW WHAT FORTUNE TELLERS ARE!!
honestly, you could google it at this point, but paper fortune tellers, aka cootie catchers (do you know what these are now?) are these little paper things you fold back and forth, and there are messages on the inside.
it looks a little bit like this: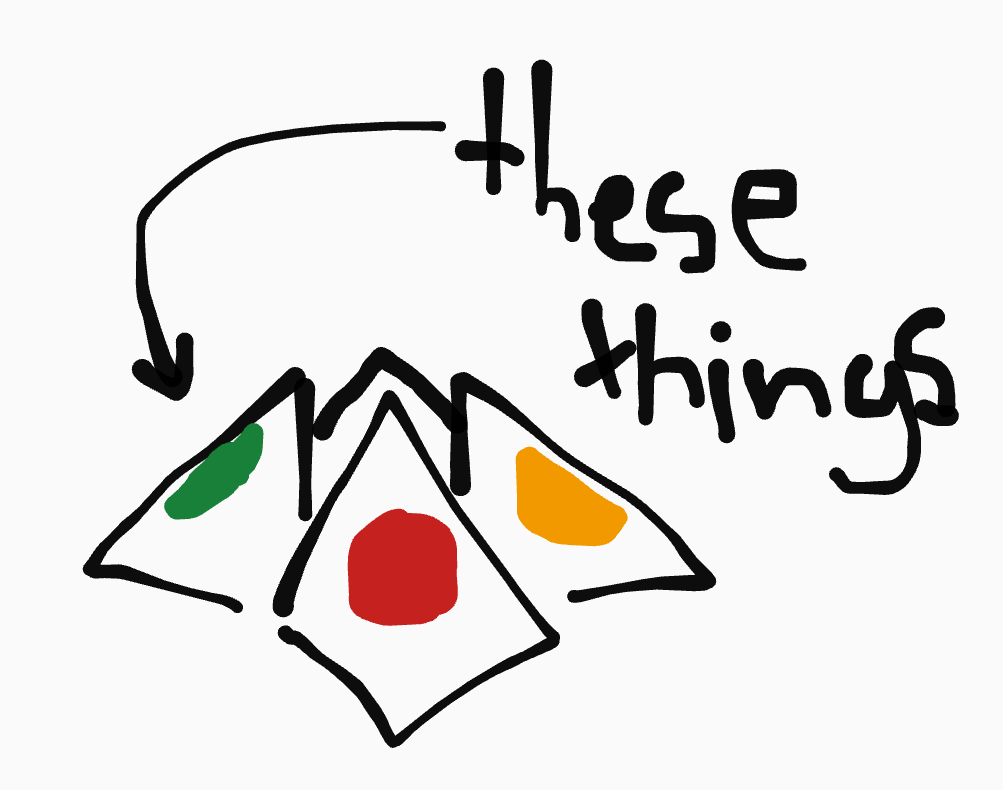 (sorry for ugly quality, lol)
STEP ONe
get a square piece of paper. if you only have rectangular paper (like a LOSER lmao,) fold one corner to the other edge of the sheet, making what looks like a right triangle in the process. cut the overlap and unfold. it can be blank or already have patterns, but i personally like blank paper so i can decorate it, hehe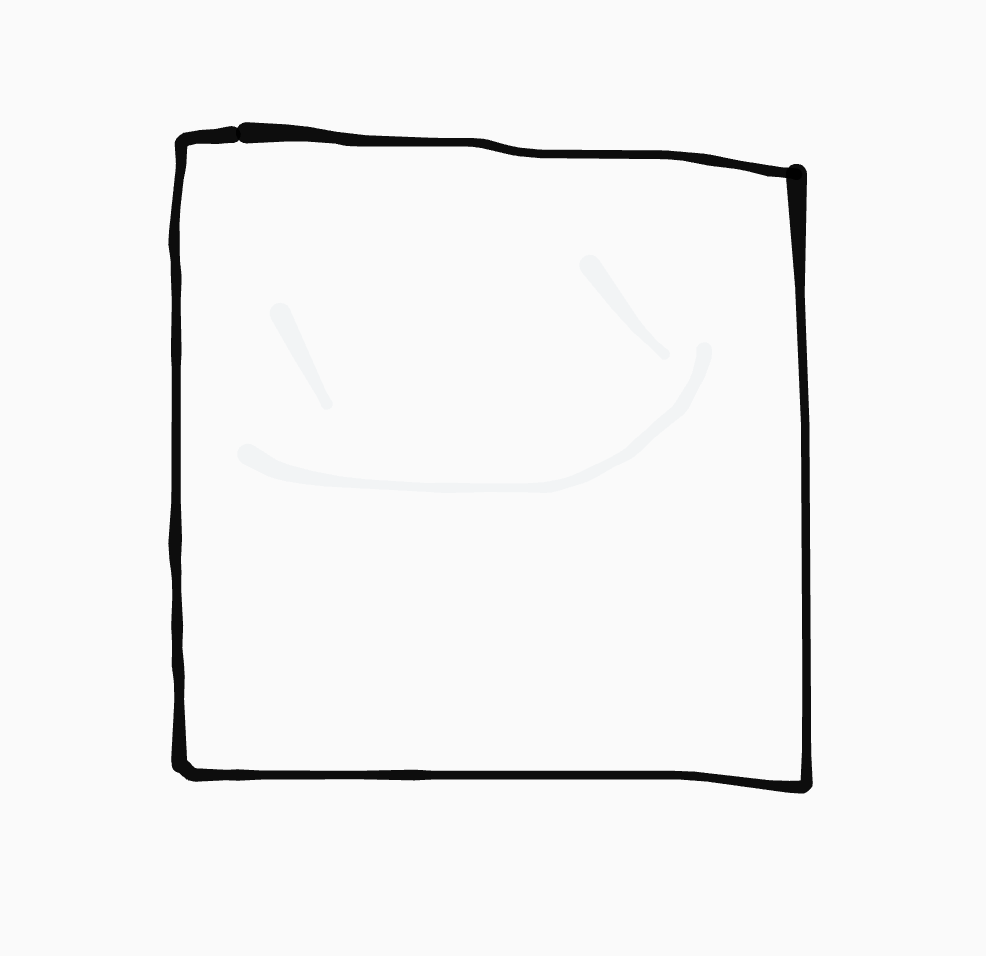 STEP TwO
if you haven't already done so when making a square from a rectangle, you should fold one corner to the other diagonally, then the other in the same way. your paper should now have little folds in them, like an X. (i feel like i shouldn't have to add an image here.)
STEP THrEE
once you've folded the paper so it has X folds, put it valleyfold-faceup (like it's concave from above.) take one corner of the paper, and fold it into the middle. crease. repeat for the other three corners until you have a smaller square.
like this: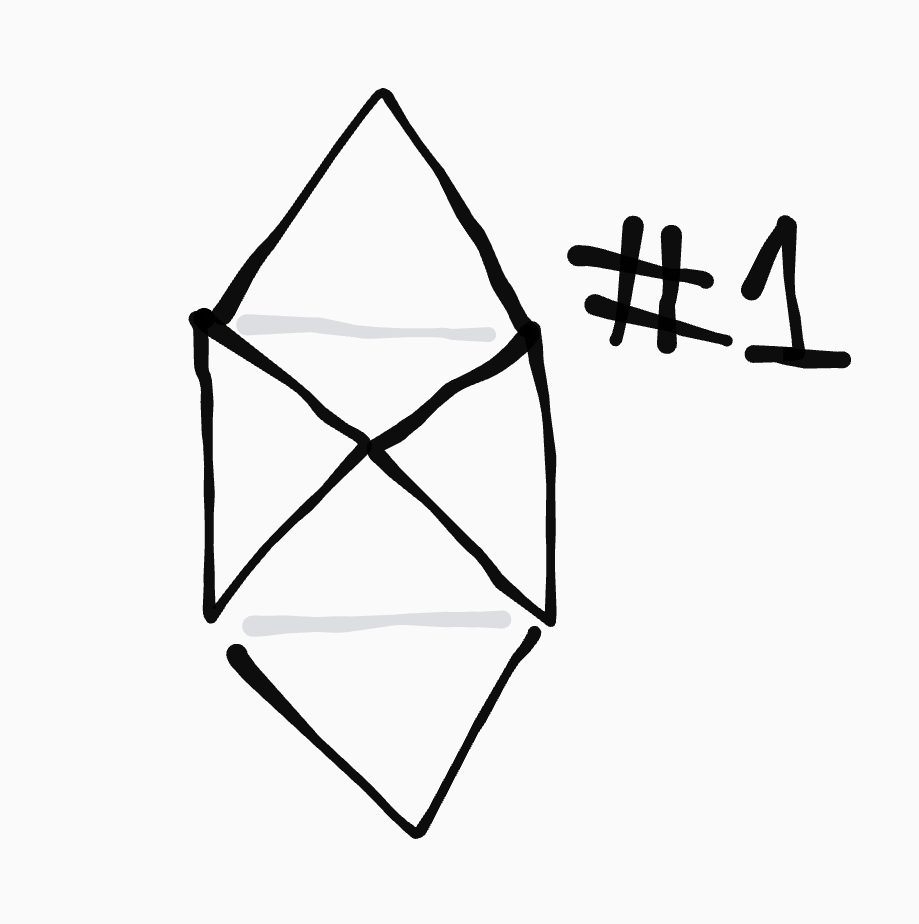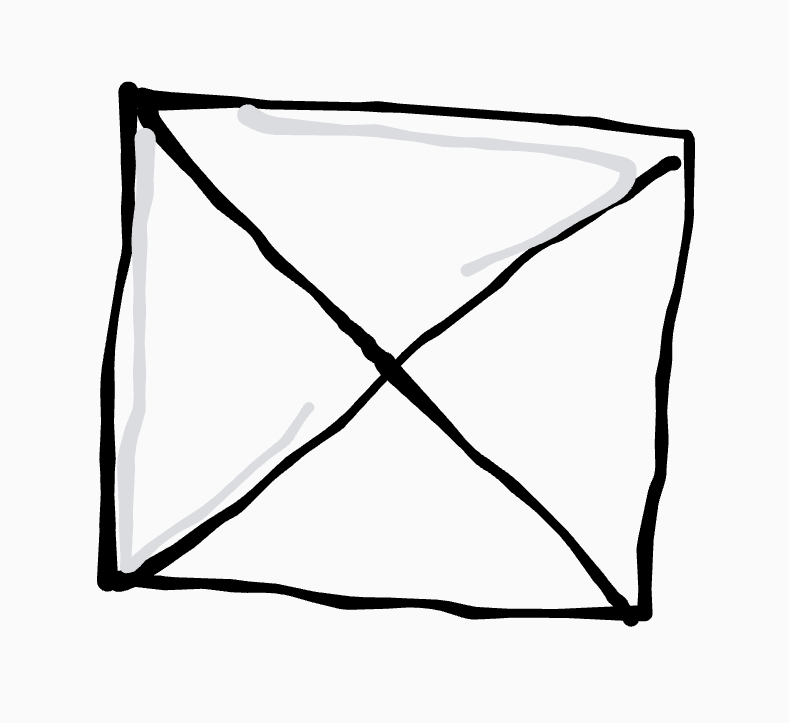 im so good at making these right :heart-eyes:
STEP fOUR
flip your paper over, so that it looks brand new without any flaps (there should be the faint marks of an X fold.) do the thing where you fold the corners to the center of the paper, like you did in the previous step, again, but with these new corners this time. now your paper should look like this: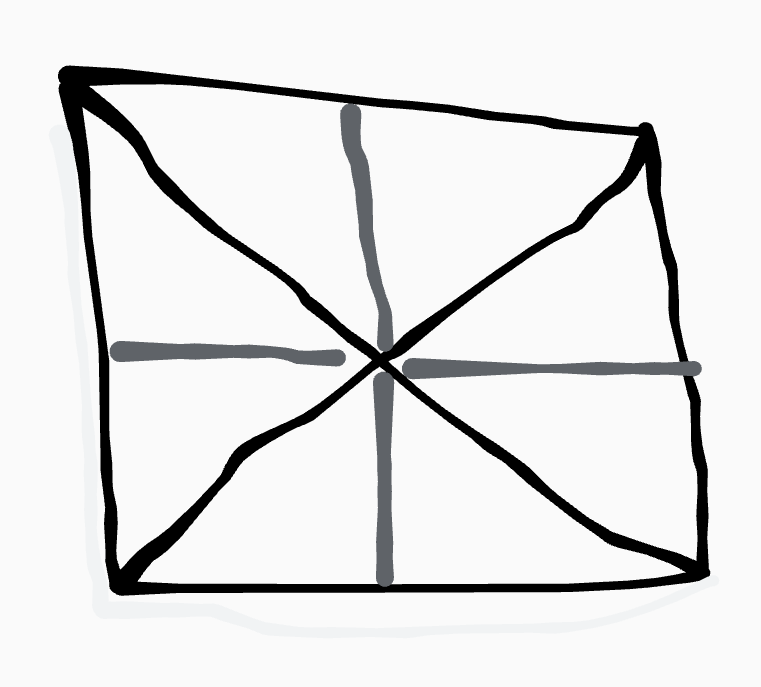 STEp FIVE
ok so now flip ur thing over. there should be no folds except for 4 little square flaps. youre going to need to pop them out. (but, before you do, you can colour them in wth 4 distinct colours or symbols, you choose) flip it over again. omg so many flips. but what youre going to do here now is fold it in half from edge to edge, then turn 90 degrees whatever-wise and do the same thing again, until there's four little sectioned squares, which should match up with the square flaps.
StEP SIX
after folding, the valleyfolds should make the square flappies pop out and stand on its own. again, it should look like this now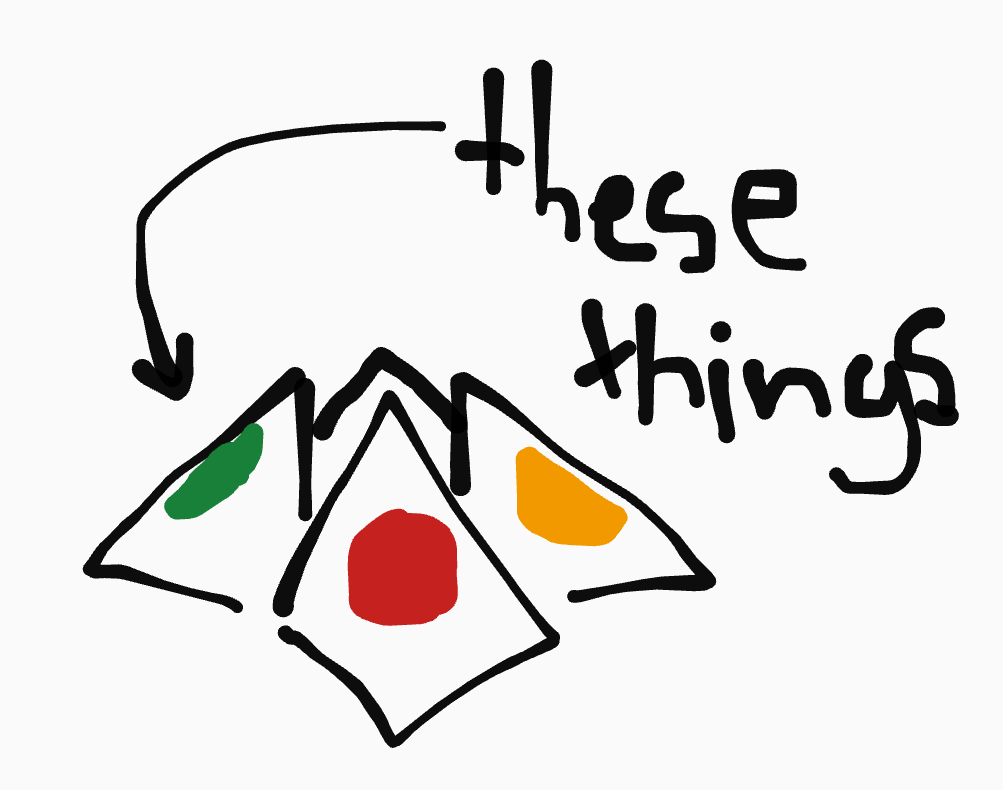 yay youre nearly there!!!
now flip it over AGAIN and now you can write whatever you want! just open the triangly flaps and write whatever u want on the underside. on the overside(? u know what i mean) you can put numbers or truth/dare or words or whatever! this is ur fortune teller babe
example: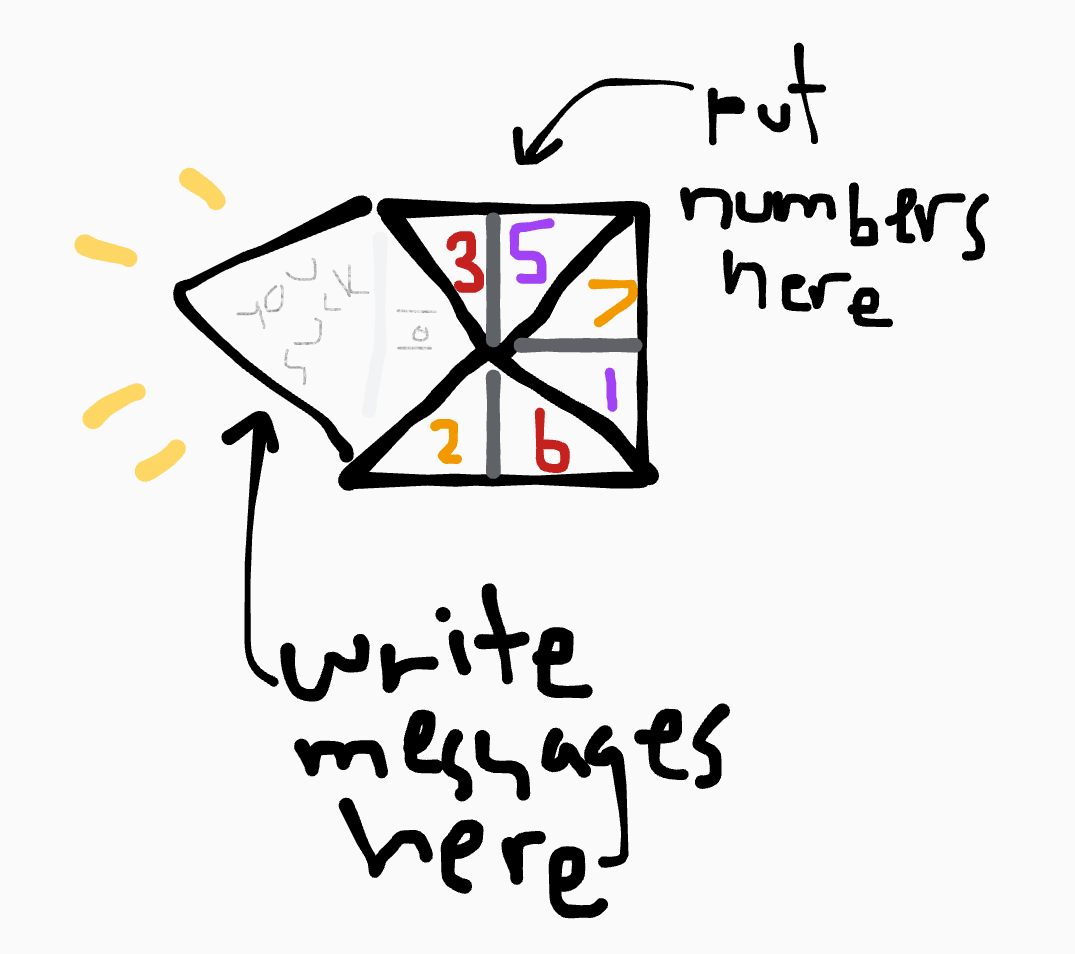 STeP SEVEN
put your fingers in the square flaps on the bottom. like, pinch your pointer finger and thumb together. see? now, do that, but in the flaps, and for both sides with your other hand. to move it, just move between pinch mode and unpinch mode / pull and bring mode
i think thats it?
YAY ENJOY YOUR FORTUNE TELLER! NOW GO GIVE UR FRIENDS FORTUNES